"Honey, we need to talk. The husband calls out to his wife. Talk about what? The wife retorts back. Haven't you seen the bank statement? We have overdrawn our account for the second time this month. We cannot continue living like this. This has got to stop. By the way, did you cut a check for the day care yesterday?" While this is just a typical money conversation between married couples, there is definitely a better way of communicating about finances that can bring a husband and wife closer together and even closer to their financial goals.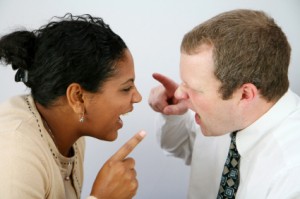 "Money is a loaded subject for many couples. It is often why marriages end in divorce. It can be a "hot topic" even when couples are doing well in their personal finances" Says Barbara Calvi. It is evident that most money conversations among married couples happen when there is an emergency or there are some fires to be put out. "The husband wants to borrow a loan and he wants the wife to cosign…… the wife gave a personal loan to a friend and she has not been paid back. Collection agents start calling for payments… and the list can go on. Finances can make or break any relationship.  "Certainly, love is not enough when the bills are late, the refrigerator is empty, and the eviction notice is on the door says Sopia and Donavan"
 Let me point out here that money conversations will only work if you are in a relationship that fosters communication. If you cannot communicate freely with your spouse money talk will certainly be a challenge. It is a sensitive discussion and requires both parties to have already built confidence on each other.  After we got married, even though we had done personalities test, and had been through financial counseling, money talk was not my best subject of discussion. To avoid hurting each other we sometimes preferred t to talk about something else instead. However, we have come to appreciate our different personalities and perspective on money and we use it to our advantage. Currently we talk about money and review our budget at least once a week.
Benefits of discussing money with your spouse
 Strengthen unity bond
As silly as this may sound, i think it does bring married people closer. Both men and women have different money preferences, and if you can freely talk about money with your spouse, it means your relationship has open an communication policy. Keeping all channels of communication open including money, leads to strong bond of shared values.
 Shared objective
When money communication happens often between a husband and wife, it enables both spouses to pursue common financial goals that helps in strengthening their union.
Do's and don'ts when talking about money
 Do's
 Be Honest- if you are not honest about money with your spouse, what else are you hiding under the rug?
 Have a plan – Have a budget or financial plan that will guide your money talk. Open ended communication about money can be long and boring. Have an agenda and stay within your agenda
Communicate fears and concerns– Men and women see and perceive things differently, if your spouse communicates fear, do not ignore or rub it off. Both of you should talk it through to see if it is genuine concern or unfounded fear.
 Set goals together– goals like savings that both partners agree on are easily achieved than goals imposed by one partner.
 Talk regularly – this keep you off from talking only when there is an emergency. We normally talk about money and review our budget once and review our budget.
Negotiate– do not be solid as a rock, be willing to meet your spouse in the middle if you cannot totally agree on an issue.
 Have fun – because this is about relationship, understand your spouse love language and do those things that communicate love to your spouse.
 Pray together: i like the wall hanging that has inscriptions on it that reads "a family that prays together stays together." I know this for a fact –

There is power in prayer

, and "The earnest prayer of a righteous person has great power and produces wonderful results" (James 5:16 NLT)
 Don'ts
Be combative: even if your mate was the one who made that stupid money goof, being combative will only create walls of defense.
Talk about money when tired – the money talk should happpen when both of you are relaxed, avoid the times when you are tired, stressed or ready to sleep. A tired and stressed human being is easily agitated.
 More on Money talk
Will appreciate your suggestions on more do's and don'ts that have been applicable to you.