It has been a great and busy week, glad the weekend is knocking.  On personal finance, here are some articles for this week round-up.
 Bargaineering List of Free Specialty Consumer Reports
A comprehensive list of reports with your personal data that you are entitled to receive.
Cashmoneylife Analysis Paralysis: The Cost of Inaction
Patrick bring the discussion – what do you do when there are too many options?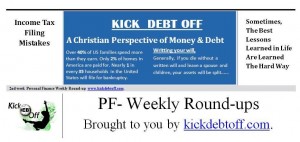 Bible Money matters Leave An Inheritance For Your Children
Jason opens up a discussion about leaving an inheritance for our children. A thought provoking discussion.
Debt Free Adventure Is It Better to Buy or Rent?
Matt brings a heated discussion that we have also been having with my wife. Buy house now and enjoy the freedom of owning your own home, or rent and save to buy what you can afford?
Christianpf How To Turn Your Failures Into Opportunities
Joe reminds us that life will still happen; but when the going gets tough those who have a different perspective of failure keep going.
Pfjourney How NOT to Dispute a Credit Card Charge
Lakitta takes the unpopular approach of 'How Not'.  A home run for understanding the terms before committing your money.
Alcoholic millionaire Be Determined to Finish What You Start !!!
This is a reminder to stick to what we commit to do. For me it is about getting out of debt what have you started?
PF By the Book When Does Saving Turn To Hoarding?
Once again Joe reminds us about having the balance in life. Being responsible financially but realizing that our real treasures should be laid up in heaven.
Frugaldad The Art Of Saying No
Frugal dad writes about how our society has shifted, and brings out the importance of saying no now, to succeed later.
Have a great weekend