It's not summer yet and the gas prices have started to rise.  According to AAA the national average retail price for a gallon of self-serve regular is $2.830 or 80 cents higher than the average price one year ago today. Although this is not a record price, it is definitely affecting consumer budgets.  Three months ago i used to fill up my car with $27.00,  last friday it took $35.00 to fill the same tank. While $8.00 may not sound like a lot of cash, it adds up pretty fast. Think about it this way, i fill up my gas tank three times a month (regular home to work commute) and my wife does the same although she travels further to work than me.  This additional $8.00 is translating into roughly $50.00 a month more on our budget and rising.  For families on a tight budget, the extra $8 to $10 it now takes to fill up the gas tank is money they may not have, but has to come from somewhere.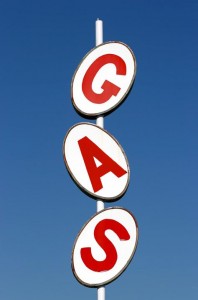 To avoid breaking your budget when the gas prices go up:
 Use your budget to determine or track your gasoline expenses each month.
Adjust your traveling habits, by avoiding unnecessary trips.
Use cash or debit card whenever possible and avoid paying interest at the gas pump.
Be innovative and trim expenses on your budget where necessary, to cover up for the extra $50.00 a month you are spending due to the increase in gas prices.
If you live in a city with public transport, compare the public transport monthly cost and make your commute decisions accordingly.
Combine trips and carpool with your spouse if you are married. This is not just beneficial to your budget but to your relationship as well. But it depends on whether you have similar work schedules and travel same routes.
For those planning spring and summer driving trips & vacations,  driving a fuel-efficient car is one of the options, and if you do not have one of those – consider renting one.
Related Readings